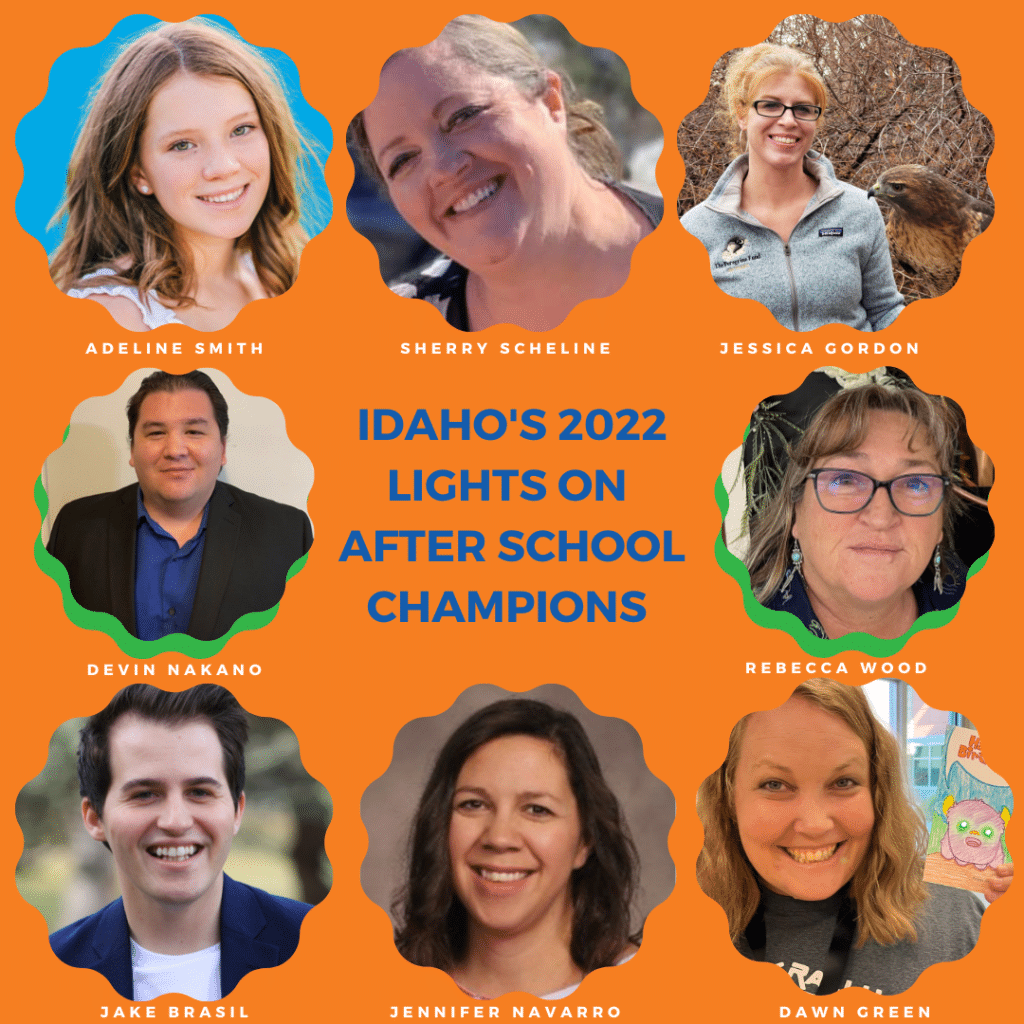 Please join us in recognizing the 2022 Lights On Afterschool Champions for their outstanding contributions to youth programs in Idaho at the Idaho Out-of-School Network Power Up Summit on September 20 at 9 am at Jack's Urban Meeting Place (JUMP), 1000 W. Myrtle Street, Boise, ID 83702.
Lights On Afterschool is celebrated nationwide to call attention to the importance of afterschool programs for America's children, families, and communities. Your programs make a difference every day. You keep kids safe, inspire them to learn, and help working families.
The nominations for the 2022 Lights On Afterschool Champions were more competitive than ever before. Past year's nominations have included mayors, school district representatives, educators, and various program providers for their contributions to afterschool programs.
Idaho's afterschool providers nominated people from all over the state. These eight outstanding individuals were selected for going above and beyond the call of duty in their support of youth programs, and we honor them now with a $300 stipend for their youth program of choice.
Idaho's 2022 Lights On Afterschool Champions from throughout the State are as follows:
North Idaho's Adeline Smith from Growing the STEM in Coeur d'Alene
Adeline was in 4th grade when she started Growing the STEM and is now in 11th grade. What the organization is today is because of her many years of hard work and dedication to providing authentic afterschool experiences where students grow in confidence and skill while feeling known and connected.
Valley County's Sherry Scheline from the Donnelly Public Library
Sherry faces challenges to her afterschool program at a small rural library head on. Most of the children in her community attend her afterschool program, where they must hold programming outside, so Sherry erected two tepees outside her library to give the kiddos a place to be out of the weather.
Ada County's Jessica Gordon from Raptor High at Peregrine Fund's World Center for Birds of Prey
Jessica thrives at recruiting students across southern Idaho and challenging them to obtain letters of recommendation and participate in a professional interview. The effort Jessica puts into Raptor High has been life altering for young people. One of her students with no prior bird experience enrolled in Raptor High and went on to complete a degree in wildlife biology and join The Peregrine Fund's esteemed bird training staff!
Ada County's Devin Nakano from Y STEM and Chess
Devin is changing the lives of young people over chess boards. Born with motor skills limitations, hearing and vision disabilities, and Asperger's Syndrome, Devin learned to play chess at the age of 12. He has dedicated his life to helping underserved youth access chess, math, and computer science as a catalyst to upward social mobility.
Lincoln County's Rebecca Wood from the Lincoln County Youth Center
In August of 2020, an abandoned church came up for sale and Rebecca saw her chance to create the program she had dreamed of. She formed a team of like-minded, passionate people and convinced the county commissioners to pursue the creation of the Lincoln County Youth Center. She started with a three-year plan to make her dream a reality and got it done in a year!
Twin Falls County's Jake Brasil from the Boys & Girls Clubs of Magic Valley
Jake's leadership has brought the Twin Falls Boys and Girls Club to another level. Programs are vibrant. Staff are engaged. He started new programs that gave teens the tools and resources they need to prepare for college and their future careers. Jake is constantly looking for ways to improve and is a phenomenal leader and advocate for youth.
Jefferson County's Jennifer Navarro from the Immersion Afterschool Program in Rigby
Señora Navarro works tirelessly to provide youth with authentic experiences that increase their cultural awareness. Growing up in Guatemala gave her a love for learning about other cultures and desire to travel the world. She sees the benefits of learning another language from a very early age, and she offers engaging classes that teach arts, crafts, and traditional cuisine from Latin American countries.
Jefferson County's Dawn Green from Harwood Elementary Afterschool Program in Rigby
Dawn has done many things for her program. When there were concerns with student behavior, she researched what other schools do and implemented a behavior contract for kids who need extra support. She developed partnerships with outside agencies that have greatly increased her program's long-term sustainability, expanded her afterschool program to run in the summer, and helped establish a food pantry as part of the community school program. She is always on the lookout for students in need of help and is always kind above all else when working with kids and families.
Thank you to all the champions for your contributions! Starting next month, Idaho's afterschool providers can nominate a 2023 Lights On Afterschool Champion for the Idaho Out-of-School Network to award $300 to the champion's afterschool program of choice.
Lights On Afterschool 2023 takes place on October 26, 2023, nationwide. Learn more at https://idahooutofschool.org/celebrate-the-24th-annual-lights-on-afterschool-october-26-2023/
The Idaho Out-of-School Network's 10th Annual Power Up Summit is Idaho's only conference dedicated solely to professionals working in out-of-school time to celebrate heroes, connect with people serving youth, and empower and energize your work statewide.
Program Highlights = STEM Expo / Cocktail Reception
Break-Out Sessions Highlights = Youth Advocacy / Family Engagement / Social-Emotional Learning / Coding with Kids / Podcasting / Wildfire Education / More!
Keynote Presenters = Eric Rowles, CEO of Leading to Change / Dr. Sonia R. Galaviz, Educator
Emcees = ION Steering Committee's Jennifer Redford / Local KTVB7 News' Mark Johnson
Learn more at https://idahooutofschool.org/2023-power-up-summit-2/