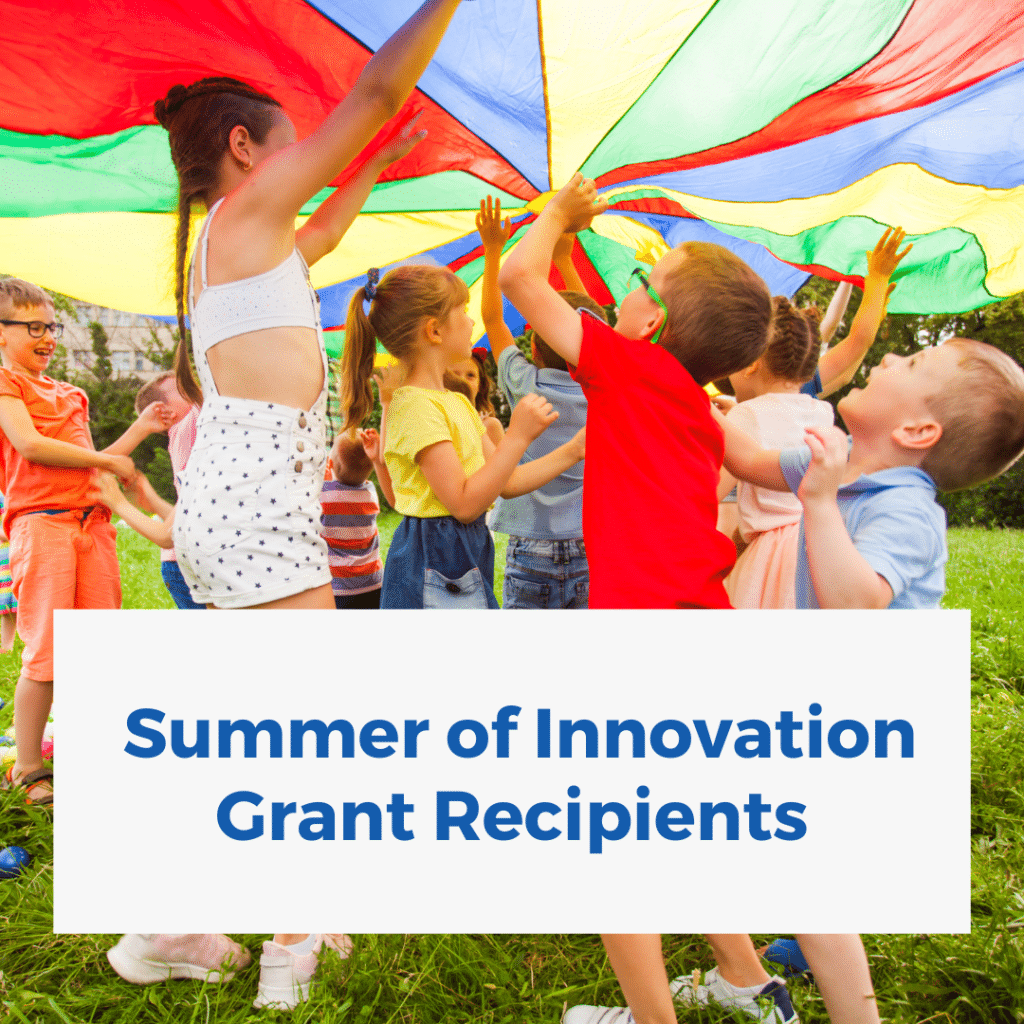 The Idaho Out-of-School Network awarded Summer of Innovation Grants to support youth and families with summer learning and care opportunities across the state.
The Summer of Innovation Grant is intended to address unfinished learning and improve the quality of out-of-school time (OST) opportunities across Idaho for youth in grades K-12. The grant is dedicated to supporting organizations that provide evidence-based programming that delivers academic, social, and emotional learning for students. This funding supports Local Education Agencies (LEA), and Community-Based Organizations (CBO) that operate out-of-school time (OST) programming during the 2023 and 2024 summers.
The Idaho Out-of-School Network Summer of Innovation Grant is being offered with funds received from the Idaho State Board of Education and the Elementary and Secondary School Emergency Relief (ESSER) Fund and the American Rescue Plan (ARP) Act of 2021 (March 11, 2021). These funds present a tremendous opportunity to help after school and summer programs hire more staff, serve more students, and expand program offerings.
For years, afterschool programs have kept kids safe, inspired them to learn, and offered parents peace of mind that their children are constructively engaged in the hours from the end of the school day to when parents return from work. For every child in Idaho in an afterschool program, four are waiting to get in, leaving 49,044 children alone and unsupervised after school.
In the last decade, the number of children unable to access afterschool programs has grown in Idaho by 40,263 even though Idaho parents are satisfied with their child's afterschool program and report that afterschool programs are a lifeline for working families.
Here are the 16 programs that received grant funds for comprehensive programming:
"I Have a Dream" Foundation Idaho – Hailey – 2023 summer only
Ada Community Library Star Branch – Star – 2023 and 2024 summers
Boise State University TRIO Upward Bound – Boise – 2023 and 2024 summers
Discovery Center of Idaho Summer Camp Program – Boise – 2023 and 2024 summers
Coeur d'Alene Public School District Summer Intervention Academy – Coeur d'Alene – 2023 and 2024 summers
Donnelly Public Library Hogwarts in Donnelly – Donnelly – 2023 and 2024 summers
Treasure Valley Family YMCA Caldwell and Wilder Y Kids – Caldwell – 2023 and 2024 summers
Selkirk Outdoor Leadership & Education (S.O.L.E) – Sandpoint – 2023 and 2024 summers
City of Star Recreation Summer Programming – Star – 2023 and 2024 summers
Girl Scouts of Silver Sage Camp Echo Day Camp – Boise – 2023 and 2024 summers
Wendell School District Hub City Initiative: STEAM Club Summer School – Wendell – 2023 and 2024 summers
Vine and Branch Ranch Community Jardin School – Caldwell – 2023 and 2024 summers
Idaho Botanical Garden Summer STEAM Camps – Boise – 2023 and 2024 summers
Marsing 21st CCLC Academies (LLASER) – Marsing – 2023 and 2024 summers
The Peregrine Fund Raptor High – Boise – 2023 and 2024 summers
Breaking Chains Academy of Development Inc Summer Youth Empowerment – Nampa – 2023 and 2024 summers
Here are the 18 programs that received grant funds for specialty programming:
Boise Rock School – Boise – 2023 summer only
Brighter Together – Meridian – 2023 summer only
Caldwell School District Syringa Middle Summer Bridge Program – Caldwell – 2023 summer only
Cassia School District Spark Afterschool Program – Burley – 2023 summer only
Children's Museum of Magic Valley – Twin Falls – 2023 summer only
City of Troy Youth Summer Program – Troy – 2023 summer only
Emmett School District Elementary/Middle School Summer Learning – Emmett – 2023 summer only
Gemstone Adaptive Climbing – Twin Falls – 2023 summer only
Gizmo CDA, Inc – Coeur d'Alene – 2023 summer only
International Rescue Committee Boise Youth Services – Garden City – 2023 summer only
Jefferson School District World Language Immersion Summer Camp – Rigby – 2023 summer only
Nampa School District First Generation Leadership Summit – Nampa – 2023 summer only
Payette School District Pirate STEM Camp – Payette – 2023 summer only
U of I Silver Valley, Benewah, Latah Upward Bound – Sandpoint – 2023 summer only
West Ada School District Summer of Steam – Boise – 2023 summer only
West Bonner Library SALTI Teens – Priest River – 2023 summer only
Zoo Idaho Zoological Society Education/Programming Summer – Pocatello – 2023 summer only
Salmon Substance Abuse Prevention Coalition – Salmon – 2023 summer only