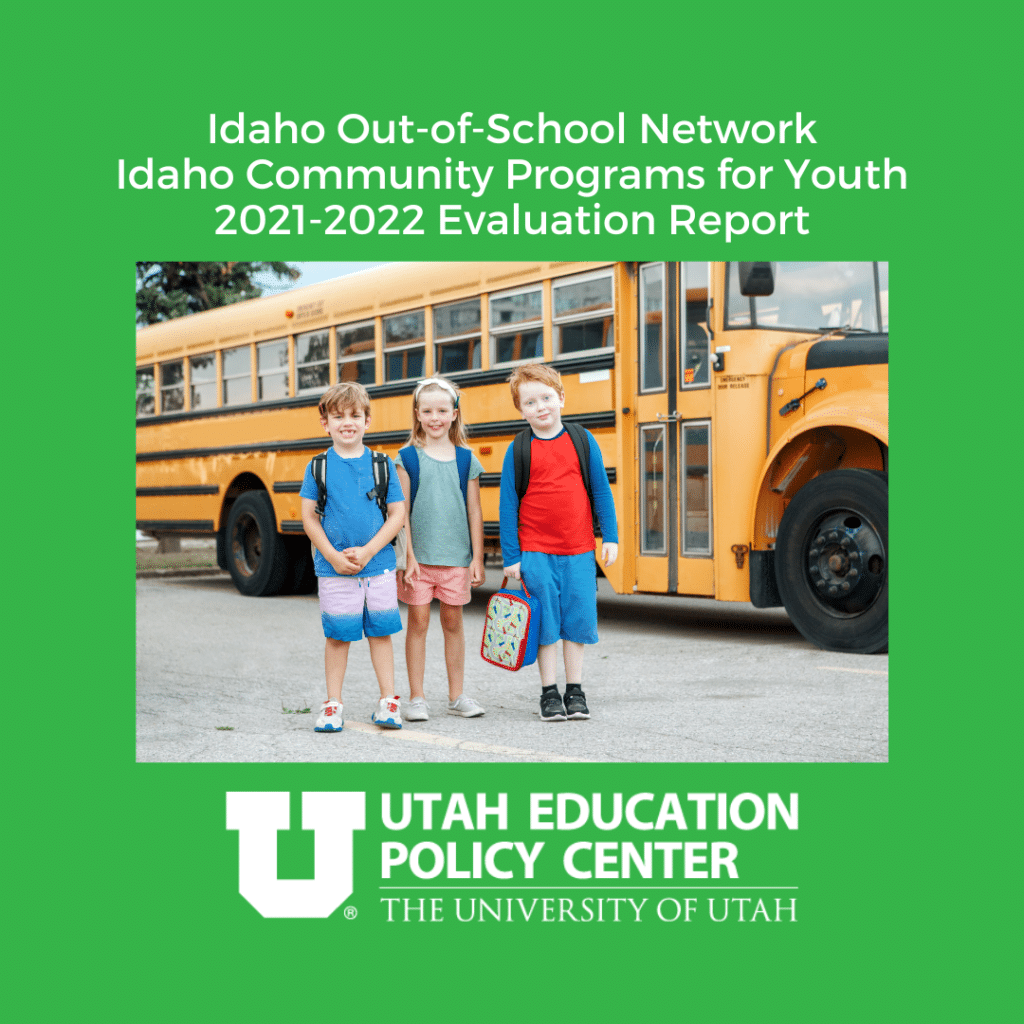 BOISE – (Jan. 30, 2023) – The Idaho Out-of-School Network (ION) provided $1.26 million to 33 afterschool and summer youth programs statewide in 2021-22, and a follow up study by the University of Utah Educational Policy Center (UEPC) found strong evidence that these out-of-school youth programs helped kids both academically and socially with a parental satisfaction rating of 94 percent.
More than 3,000 youth in Idaho aged 5 to 13 were served by the ION programs statewide.
"The proof is in the pudding," said ION Senior Program Director Anna Almerico. "The study shows that afterschool and summer programs help kids succeed in Idaho. We see the quality of the youth programs built over the last two years and believe they could be a sustainable part of Idaho's educational supports if we can find longer-term funding."
ION made 33 financial awards to local youth programs across the state under a Community Programs for Youth grant from the Idaho Department of Health and Welfare (IDHW). Local awardees included public afterschool programs, libraries, school districts and community-based organizations. Funds were used for new and expanded youth programs and to help communities recover lost learning.
ION commissioned UEPC to evaluate the impacts of the granting program to families and youth. On average, program providers received $400 per student for scholarships, to hire new teachers, tutors, supplies, meals and/or transportation. Researchers reviewed the programs, conducted interviews, surveyed 262 parents and family members and 121 program staff. ION conducted site visits and provided training on quality and behavior management for afterschool providers.
The UEPC study found that students in these programs improved academically in areas such as class participation, homework completion and catching up on learning loss due to COVID-19 school closures. Families also reported that scholarship funds and busing were especially important to their student's ability to participate.
Researchers found that afterschool and summer programs improved valuable social skills including self-awareness, relationship building, self-management and responsible decision-making. Overall, familysatisfaction with these afterschool and summer programs was 94%.
The study found that 96% of the students enjoyed attending afterschool and summer programs and that many feel changed by their experience. According to a program provider interviewed by researchers, "They feel like they belong now, they have a purpose. These kids won't be lost or left behind."
Researchers found that success, in part, because afterschool and summer youth programs are using the professional best practices championed by ION to assure high quality programs. This includes training, technical assistance and one-on-one coaching. Programs used the funds in accordance to state requirements and goals to hire new staff, create new programs and improve affordability through scholarships.
Concern for long-term funding for afterschool and summer programs
UEPC study concluded that, "It is clear that these funds were used to provide valuable program services for students and families. However, community partnerships and financial support are needed to make these programs more sustainable over time."
"As program funders, policymakers and out-of-school time teams begin planning for Summer 2023, it is important to consider the increasing need for programs such as these across the state."
And funds for 2024 are even less secure. That makes Almerico even more concerned. "State funding for Idaho's public school budgets has grown substantially in the last year. However, there are no state matching funds for afterschool."
"One time federal set-asides for afterschool and summer programs will end in 2024. Local communities and schools will need to fill the gap for these programs that are essential for working parents, keeping our kids safe and active and maintaining a strong workforce. ION will continue to fund youth programs and work with communities to plan for the future."
Funding for ION's grants was authorized under the Coronavirus Aid, Relief and Economic Security Act (CARES Act) and the Coronavirus Response and Relief Supplemental Appropriations Act of 2021 (CRRSAA) and the American Rescue Act Plan (ARPSA) through the Idaho Department of Health and Welfare.
###