Boise State Deptartment of Geosciences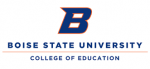 Boise State Deptartment of Geosciences
K-12 Outreach Activities
The Department of Geosciences is eager to work with local teachers and classes to enhance Earth Science education in the K-12 community. , if you are looking for someone from the department to give a special presentation to your class, assist with developing classroom activities, serve as a science fair judge or advisor, speak at a "career day", assist with Science Olympiads, etc.
Classroom Materials
A variety of materials have been produced within the geoscience department by faculty, staff, students and volunteers. These include field trip guides, lab activities, career resource materials, local geoscience content and related instruction materials. We expect the number and variety of items available for download on this site to increase each year. Please contact us with further specific classroom material requests and/or suggestions to improve our materials available.
Send Message to listing owner
Boise State Deptartment of Geosciences