Boise Code Camp – Youth Track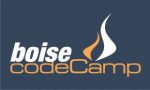 Boise Code Camp – Youth Track
Building on last years success, Boise Code Camp will again be adding a youth track to its traditional selection of community driven technical content. The youth track is a full day of sessions dedicated to the experienced and novice programmer between the ages of 6 and 16.
In past years Boise Code Camp has had a single session presented for kids by kids as young as 6 years old. These sessions were so well received and attended that we were encouraged to expand beyond just a single session. In the last year, millions of kids, many of them in our own community, have learned to code with the Hour of Code and tools like Scratch and Raspberry Pi. Boise Code Camp is representative of our community and the kids in our community are starting to code.
The youth track occurs during Boise Camp Camp at Boise State University in the Student Union Building.
Come for the whole day or just drop in for a session or two.
Like all code camp events, the youth track is FREE but we do ask that you register on the Boise Code Camp web site so we can have an idea of how many attendees to expect.
Send Message to listing owner
Boise Code Camp – Youth Track